Virtual Exploration Workshop Series
How can we enhance the Swiss-made digital infrastructure to create shared value for economy and society?
***
The excellence of a digital society is measured by the quality of its digital infrastructure. The pandemic has made it abundantly clear just how dependent work, consumption, culture, science, communication, and democratic debate have become on cables, hardware, software, and platforms.
At this Exploration Workshop Series we want to connect, enrich and disrupt with ideas from the ecosystem to develop use cases for collaborative projects. The objective is to enhance the Swiss-made digital infrastructure and thereby elevate the competitiveness of the country and its companies, and improve the quality of life for Swiss citizens.
Read our Blog and Sign-Up below!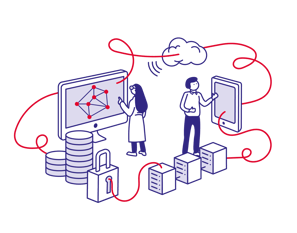 ---
Are you a digitalswitzerland member organisation? If so, join us for the following two workshops!
***Kindly note that the timing of workshops is subject to change.
---
Confidential Computing | Tuesday, May 25th, 09:00 - 10:30am ONLINE
The promising technology of confidential computing is finally reaching the point of wide-spread adoption. With the latest technological advances, it is now possible to aggregate data pools while individual submissions from stakeholders are kept secret. This equates to a novel risk-free avenue to bridge data silos that exist across organisations. As such, several data sharing alliances are beginning to emerge to tackle industry or societal challenges.
Based on this, we are excited for a Leap Workshop centred around the following question:
Where and how should we collaborate on cross-organisational datasets?
Join us for a workshop where we will introduce the technological foundations, demonstrate existing implementations, and explore new collaborative projects together.
Digital Municipal Government | Thursday, June 3rd, 08:30 - 10:30am ONLINE
In line with the broader trend of urbanisation, rural communities are increasingly feeling "left behind". The quality of life in many such municipalities is constantly declining. At present, digitisation efforts of many municipal government are advancing slowly, while a select few have found a way to tap into the ecosystem to unleash powerful digital tools that benefit their inhabitants. Hear from experts on how resources, capabilities, or the understanding of different levels of eGovernment play a role here.
Based on this, we are excited for a Leap Workshop centred around the following questions:
Where and how should we support municipalities in their digitisation journey?

How can we learn from the pioneering examples and together ideate collaborative solutions?
Join us for a workshop where we will outline eGov challenges for municipalities to be solved, showcase promising digitisation approaches that can be replicated, and jointly develop further innovation opportunities.
Deadline for applications: First come-first served
If you have any questions, please contact us at leap@digitalswitzerland.com

Leap, the Swiss platform for multi-stakeholder innovation,
enables organisations to harness the power of collaboration.