Exploration Workshop on
Distant Creative Collaboration
***
Quick Navigation
1. Background: what's the motivation for Distant Creative Collaboration?
2. Existing Projects in the field of Distant Creative Collaboration
3. Exploration Workshop: why you should join!
4. Let's get started! Workshop details and registration (closed)
***
Background:
Today, we often work and interact digitally. Location-independent and creative collaboration practices are at the centre of our exchanges and are becoming increasingly important. "Creative" refers to
the exploration of innovative forms of digital collaboration and
the effect of creativity that results from intentional and successful digital collaboration.
Due to the current developments, we must expect that interactive communication, such as teaching, meetings, workshops, conferences, but also artistic productions (concerts, theatre, film), will continue to increasingly take place in the digital space and/or hybrid. Therefore, digital skills are increasingly important to operate efficiently in the Future of Work.

DIZH Innovation Programme

Zurich University of the Arts (ZHdK) and Zurich University of Applied Sciences (ZHAW) plan to apply for a Structure Call in 2022, granting a 5-year fund, initiated by the Digitalisation Initiative of the Zurich Higher Education Institutions (DIZH).

"With the Structure Call, the Digitalisation Initiative of the Zurich Higher Education Institutions (DIZH) supports new, long-term innovation structures for up to 5 years. Because digitalisation generates new work structures and because innovative power can only develop in suitable structures, the DIZH Structure Call explicitly seeks innovative structures." (dizh.ch)

The aim is to develop and position Zurich methodically and technologically into a relevant international hub for Distant Creative Collaboration. Zurich offers the best conditions for this since there are already relevant projects with many years of experience – e.g. telematics, immersive art space, digital music production, etc. Also, technologies and infrastructures have already been developed or built up to a high-quality level.

Distant Creative Collaboration serv

es as a guiding concept, which is divided into the following three areas:

Spaces & Tools: Infrastructures, physical and digital spaces or labs, tools
Make & Play: specific formats, methods and thematic areas such as teaching or learning, work and collaboration
Critical Thinking & Reflections: reflection and exchange between ongoing projects, cross-cutting themes such as digital fairness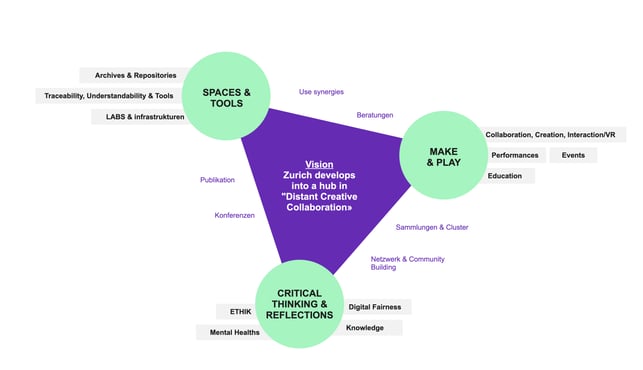 Existing Projects in the Field of Distant Creative Collaboration:
In the following overview, you will find a brief summary of existing projects. If you are interested in getting involved in one or more project(s), don't hesitate to reach out to Daniel Späti or Renato Soldenhoff from ZHdK to discuss potential collaboration. Daniel and Renato are happy to share more in-depth information about the specific projects with you.
Virtual Makerspace by University of Zurich and ETH Zurich


A team of plant and computational scientists, science communicators, designers, artists and teachers who wish to build capacities for (virtual) creative learning environments enabling young people to develop future-proof skills. Virtual Makerspaces will allow aesthetic experience and "connections" to nature or research environments (e.g. fields, forest, lab).



Ec(h)o-Lab / Teleperformance by ZHdK


Ec(h)o-Lab consists of a fixed space that is equipped for performative practices in live interplay with remote locations and gathers corresponding expertise. It hosts initiatives from teaching, research and artistic production. The goal is to create a permanent (infra-)structure, an artistic practice and a growing network of global partners for distributed live performances within an augmented stage reality – based on long-lasting experience.



Dialogical Repository Shared Campus by ZHdK


The Dialogical Repository is a living online archive and interactive resource for faculty and students of Shared Campus. In this creative knowledge platform, learning and teaching materials, texts or artistic references, case studies, tools and tips can b

e stored, sh

ared, commented, discussed and re-contextualised. It fosters location-independent studies and online teaching.



Digital Collection by University of Zurich


The Digital Collections integrate real-world objects with digital records for a composite expanded environment for documentation and training based on «transformed» collections. The goal is to p

rovide efficient digital means of open and interlinked access to museum specimens and biodiversity information of Natural History Collections (NHCs) for education and training purposes of students and citizens interested in nature and the diversity of organisms.




Distant & Hybrid Forms of Meeting and Learning by ZHdK


With the help of existing spaces and potentially new infrastructures, scenarios of distance and hybrid formats of collaboration and teaching will be tested, documented, discussed and made available in the form of good practice.

A project that searches for ways to develop and describe effective methods, practices and settings for hybrid collaboration and learning.





Collaboration with Future Collaborative Environment by ZHAW


The "Future Collaborative Environment" project aims to upgrade an existing space for technology-enabled collaboration processes. Due to its spatial proximity and integration into the Distant Creative Collaboration project, the FCE combines competencies from different disciplines.

In this way, innovations can be identified at interfaces. Additionally, new scenarios integrating space, user, technology and process, can be created to best support users and their processes through space and technology.
If you would like to talk about the above projects and are interested in joining any of them, contact Daniel Späti or Renato Soldenhoff.
***
Following you will find more information on the Exploration Workshop that was held at the end of November 2021.
---
Exploration Workshop (past – registration closed):
As part of the DIZH Structure Call, ZHdK and ZHAW plan to create a Distant Creative Collaboration network. Such a network can lead to concrete products and results such as new communication formats, transfer of research results, prototypes, commercial and cultural applications.
The workshop will bring together the relevant stakeholders from academia and industry and provide a platform for exchanging knowledge and ideas to build up the network for Digital Creative Collaboration. During the workshop, we will show the potential of a Distant Creative Collaboration network. Based on existing projects, we will focus on the challenges and how to tackle them by joining forces.
An example for such a project is
Remote Studio Sessions with Source Elements:


The situation of a studio session is technically and logistically already complex: musicians, sound engineers and composers have to function under time pressure in a technically complex environment. Now, the added dimension of an online transmission with locally separated people needs to be taken into consideration. Therefore, the project intends to explore the topic of "remote sessions" and its challenges more broadly.
Together we will discover synergies and develop concrete ideas to advance Distant Creative Collaboration and overcome its challenges with the overarching goal of establishing Zurich as a relevant hub for it.
Do you want to build with us a new network and potentially a hub for Distant Creative Collaboration?
Sign-Up below!
---
Distant Creative Collaboration | Friday, 26 November, 09:00 - 12:00am | Location: Toni-Areal, Zurich
We are excited for a Leap Workshop centred around the following question:
We will meet physically at Toni Areal, Room ZT 4.K13 Galerie 1, ZHdK, Pfingstweidstrasse 96 in 8005 Zurich. A casual lunch will be provided.
Agenda:
8h30 - 9h00: Soft Start - ☕& 🥐
9h00 - 9h30: Welcome & Introduction
9h30 - 9h45: Speed-Dating
9h45 - 10h20: Projects Pecha Kucha
10h20 - 10h35: Coffee Break ☕
10h35 - 11h30: Project Deep Dives
11h30 - 12h00: Sharing Insights & Next Steps
12h00 - 13h30: Lunch Break
The number of participants in workshops is limited to 30 people. The principle "first come, first served" applies. We look forward to your participation and an impactful exchange! Registration CLOSED.
If you have any questions, please contact us at leap@digitalswitzerland.com

Leap, the Swiss platform for multi-stakeholder innovation,
enables organisations to harness the power of collaboration.